Brain and head injury
Paul suffered a serious brain injury as well as other injuries. Watch this video in which Paul and his wife Sue explain how Moore Blatch were able to help.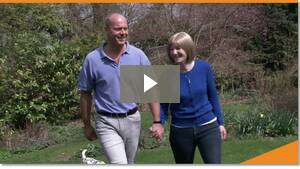 Another client is Dan Pitt. Dan suffered a serious brain injury and spinal injuries as a result of a car accident. In this video Dan, his sister Leanne and his case manager Jo Jones tell us about the accident, Dan's injuries and the role Moore Blatch Solicitors and Jo, the case manager, played in helping Dan on his road to recovery.
---
Moore Blatch Solicitors helped a 19 year old girl in a road traffic accident claim who was a passenger in an uninsured vehicle when it was involved in a serious collision. As a result of the accident she suffered a severe closed head injury. She was unconscious for 14 days and sustained severe brain damage. […]

Read more...

---

At the time of the accident our client worked as an optometrist and had a wife and three young children. His wife was pregnant with their fourth child. The accident occurred when he was riding his motorcycle and a car pulled out from a lay-by without warning and attempted a "U" turn across his path. […]

Read more...

---

Moore Blatch won a substantial sum for their client after a serious road traffic accident left him with a severe brain injury. Moore Blatch assisted a young man who was travelling as a passenger in a motor car driven by his friend. It transpired that our client was not wearing a seatbelt, and that his […]

Read more...

---

Moore Blatch helped a man to claim brain injury compensation after he was punched in the head at a local pub and left unable to work for the rest of his life. The client was just 16 when he was punched in the head by an adult male, causing a severe traumatic brain injury. He […]

Read more...

---

Moore Blatch acted for a client who sustained a significant injury following a motorcycle accident. Although she made a remarkable recovery given that her Glasgow Coma Scale score was as low as 4 at the time of the accident, she was nonetheless left with some ongoing disability. Moore Blatch were able to settle the claim […]

Read more...

---

Our client sustained a very significant brain injury in a road traffic accident. Our client was walking along the road when the Defendant drove into him. He was airlifted to hospital from the scene of the accident. The accident circumstances were unusual in that there were no witnesses and our client was unable to give […]

Read more...

---

Moore Blatch Solicitors helped a man from Romford to claim a six figure sum in work accident compensation after his head was crushed between a lorry trailer and a wall, whilst at work. The client had been unloading the trailer when the driver of the lorry reversed, causing significant head injuries including skull base fractures, […]

Read more...

---

Moore Blatch acted for a husband and wife who both sustained catastrophic injuries in a road traffic accident. Moore Blatch were able to secure liability in their favour. The Defendant had lost control of his vehicle on a bend and ploughed head on into our clients' lawfully proceeding vehicle. The wife sustained significant abdominal injuries […]

Read more...

---

Moore Blatch acted for a lady via her Receiver in connection with a claim arising from a very significant head injury following a road traffic accident. She was hit by her husband reversing his vehicle, he did not see she had walked behind it. She was knocked to the ground and sustained a very severe […]

Read more...

---

Moore Blatch won substantial compensation for a client who sustained a significant head injury and associated brain damage as a result of a fall. Our client was a guest at property in Bristol owned by a housing association. While returning from the pub he fell over a low wall bordering the steps to the property […]

Read more...

---

Moore Blatch helped a gas and plumbing engineer to achieve substantial compensation after he sustained a significant head injury, when a lorry collided with the rear of his van. After the collision caused him to hit his head, the client experienced post-concussion syndrome, causing significant cognitive impairment and preventing him from returning to work. Symptoms […]

Read more...

---

Our client was involved in a road traffic accident when he was seven years of age. He was ejected from the vehicle and as a result sustained a severe traumatic brain injury. Moore Blatch quickly secured an admission of liability. As a result of his brain injury our client is managing with a variety of […]

Read more...

---

We are acting for the wife of a man who was brutally assaulted and sustained significant, irreversible brain damage as a result. The claim is being pursued through the Criminal Injuries Compensation Authority. The injuries are of such severity that the Claimant will remain in full-time institutional care and his wife is being appointed as […]

Read more...

---

We are acting for the family of a young boy who sustained a significant brain injury as a result of a compound skull fracture requiring excision of a significant component of his left frontal lobe. Since then our client has also suffered from epileptic fits. He also has significant learning and behavioural problems as a […]

Read more...

---